...Because we believe a well balanced dog has a title on BOTH ends!
Symmetry: n.,The proper or due proportion of the parts of a body to one another; excellence of proportion.
---
NEWS FLASH!!!
We are thrilled to announce that the Symmetry/Calypso family is expanding! Our Dakota's sister has been bred to a wonderful dog, and puppies are due in May 2016! The dam's name is "Lexie" aka Ch Calypso's Wanna Be a Lexus CD, RA, OAP, OJP, CA. She is a full sister from a repeat breeding to our Dakota - you can see Lexie's pedigree and pictures of her parents here.
The sire is an amazing dog named "Deion" aka Bronze GCH Lake's Prime Time. He brings a lot to this pairing and we expect puppies with type, soundness and fantastic temperaments. For more details go to the Deion x Lexie page.
UPDATE: We brought home a lovely brindle girl from the Lexie x Deion litter. Her name is Izzy and she is competing in Conformation and Lure coursing, and training in Agility. Her page is here.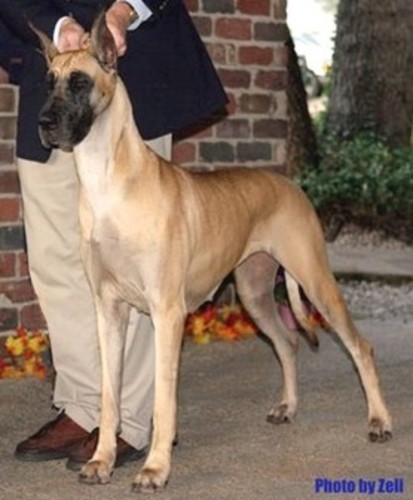 Welcome to our Website!
We are Barb Bristol and Ronnie Wilson, we've been married since 1998 and we show our Danes in AKC Conformation, Obedience, Rally, and Agility. We do this primarily as a fun activity to share with each other and with our dogs, but we also believe that these events can help breeders identify the best individuals to use in a breeding program. We will rarely produce a litter but when we do, we believe in breeding only well balanced dogs who are as good as possible in all areas: breed type, intelligence, soundness and athletic ability.
And great temperament ABOVE ALL!!
Click on the links to the left to see pictures of our dogs, and read about what we've done with them.
We very rarely have puppies available, but please contact us if you're thinking of getting a Dane puppy - we can help you decide if this is the breed for you, and help direct you to reputable breeders and local Great Dane Rescue organizations.
All photos on this web site are the property of Symmetry Great Danes and may not be borrowed, reproduced, copied or otherwise used without written permission.
Don't steal!!
Ch. Calypso's Vrroom With A View, RN, NA, MXJ, NJP, OF, NFP
GDCA Hall of Fame
aka "Kinsey"
The beautiful photo above of our foundation bitch Kinsey was taken at the 2004 Great Dane National Specialty Show by Zeli Schulte.
Members of:
Great Dane Club of Greater Dallas
North Texas Saint Bernard Club
Metro All-Breed Obedience Club - Fort Worth, TX
PAWSitive Agility Working School - Rhome, TX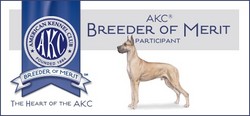 Check the "What's New" page for the latest on the Symmetry crew!
Also, new Agility photos are up - check the "Agility" and "Agility 2" pages to see them. The photo of Kinsey above was taken by 2MC Design.
Check out my blog about life with Great Danes